Poachers will stop at nothing to kill a grizzly bear.
Will January be next?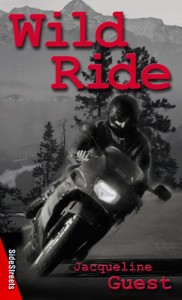 January Fournier is back in the sequel to Lightning Rider! This time she has a faster bike and faster friends, including Liam, a computer wizard who has a talent for hacking.
Jan and her new family have moved to Banff, Alberta and when Willow Whitecloud, an RCMP Summer Student, comes to live with them, things start to happen.
Is it coincidence that a rash of grizzly bear poaching begins soon after Willow arrives?  And what's with Willow's strange religious beliefs?   She smudges, believes in evil wittigos and is sure Jan has a spirit helper.  When Jan compares Willow's spiritual beliefs with her own mainstream religious background, conflicts arise that she can't deal with alone.
An action packed read with fast motorcycles, computer hacking and evil spirits all clashing to make this book a truly Wild Ride!
Wild Ride is Jacqueline's twelfth book, published in May, 2005.
Awards:
Wild Ride has been short listed for a 2006 Arthur Ellis Award in the Best Juvenile Category!  The Arthur Ellis Awards are Canada's premier award for excellence in crime writing.
New!!
With purchase of set of novels or with novel study of one of Jacqueline's books, a FREE Skype or Facetime visit is included.
BUY FROM AUTHOR