This was not how he'd imagined today would go…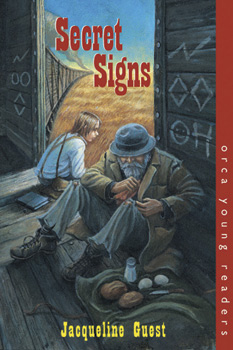 When 12-year-old Henry Dafoe runs away from his farm near Winnipeg to find his father, he has no idea he will end up riding the rails across the prairies with a hobo named Clickety Clack and discovering what The Depression is all about. Using the underground code of hobo symbols found scrawled on gateposts and fences, the two must overcome dust storms, grasshopper plagues and angry railway police as they journey to the Glenmore Dam Relief Project in Calgary. Their success will depend on help from friendly tramps, soup kitchens, stolen food and most of all, the hobo's Secret Signs.
Secret Signs is Jacqueline's Thirteenth book, released in October, 2006.
Reviews:
"Secret Signs is an enjoyable read, full of 'teachable moments."
Canadian Materials
Study Guide
New!!
With purchase of set of novels or with novel study of one of Jacqueline's books, a FREE Skype or Facetime visit is included.
BUY FROM AUTHOR