Proving your brother isn't a motorcycle thief  is tough when he's been caught on a stolen bike.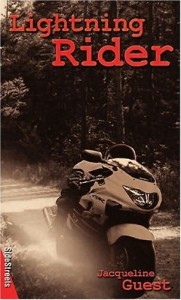 January Fournier, a sixteen-year-old Métis girl, learns her brother is in intensive care after a motorcycle crash.  When she arrives at the hospital, the police tell her the crashed bike was stolen, and her brother is now the prime suspect in a series of local bike thefts.
Convinced the police are wrong, Jan sets out to uncover the truth.  But her attempts to track down the real thief are blocked by a police officer who wants her brother convicted.  Before Jan can solve the mystery, she must push herself and her own bike to the edge of disaster.
Lightning Rider is Jacqueline's fifth book, published in 2000. Lightning Rider was also Jacqueline's first Young Adult book.
Reviews:
"Lightning Rider is worth reading for its important cultural value. Recommended." 
Canadian Book Review Annual, 2000
Now available: Wild Ride, the sequel to Lightning Rider!
New!!
With purchase of set of novels or with novel study of one of Jacqueline's books, a FREE Skype or Facetime visit is included.
BUY FROM AUTHOR