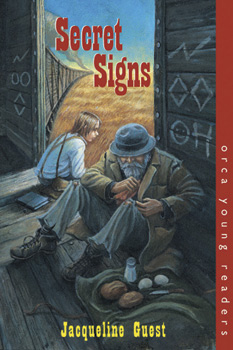 Grade 4-6, 60 minutes
Ride the rails with Henry as he searches for his father who has left home to find work in 1932.
Listen to the wisdom of Clickety Clack, an old hobo who knows a thing or two about surviving during tough times.
Journey with Henry as he discovers that even though 'this was not how he'd imagined today would go', sometimes life handed you a surprise, and that was a wonderful thing.'
Historical fiction with facts and fun to keep grade 4-6 readers turning the pages to discover what happens to Henry and Clickety Clack next!
Presentation
All these questions and more will be answered in this sixty-minute presentation Secret Signs – A Canadian Adventure for Tom Sawyer Fans.
Created to tandem with the Jacqueline's novel Secret Signs, this curriculum-based presentation will inspire interest in this important and pivotal event in Canadian history and encourage individual reading.
In this grade-appropriate session, students discover what The Depression is all about.
Class sets of Secret Signs, (minimum 20 books), include a complimentary virtual Q&A after students have read the book.
This session is available for Virtual Presentation
Curriculum connections: Language Arts, Social Studies
Study Guide