Death By Dinosaur – A Sam Stellar Mystery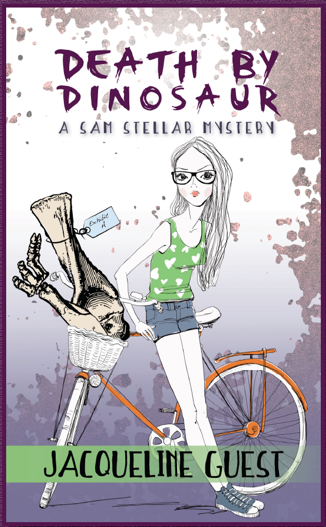 Teaser
Sam glanced back at the door. Then she heard it. The unmistakable clicking sound of a lock being released. Her heart slammed in her chest and her throat tightened, choking off a scream. The door slowly opened. There, silhouetted against the evening sky, was a- dark figure, and he was holding the deadly blade.
Overview
Meet Samantha Stellar. She's I4 and spending her summer in a work-study program at the Royal Tyrrell Museum of Palaeontology in Drumheller, Alberta with cousin, Paige. You might think that's a pretty chill way to spend the summer. But where Sam's involved, trouble is bound to follow. That's because Sam sees herself as a detective in the making, and when a mysterious dinosaur bone goes missing, She's on it!
The closer Sam gets to finding the thief, the deeper she gets into hot water.
Her line up of suspects includes her cousin's summer crush which causes Paige to go ballistic, but a crime must be solved and Sam knows anyone, even the cutest guy in the lab, can hide a dark secret.
SPG Book Review by Amanda Zimmerman
Jacqueline Guest, bestselling author of Belle of Batoche, masterfully weaves her knowledge of Drumheller AB into a mystery sure to keep young readers wondering to the very last chapter.

Sam Stellar, a fourteen year old spy enthusiast, and her tech loving friend Paige, are looking forward to spending their summer at the Royal Tyrrell Museum as part of a work experience program. However, a case presents itself when a person aboard their bus sets off Sam's weirdometer (her self proclaimed spy sense) and fits the description of a cross-country fossil thief. A short while later, after unpacking the crated bones of a South American dinosaur, Sam believes she's found an unaccounted for dinosaur bone. But before she can make sure, it suddenly disappears! Why was it stolen? And more importantly, who is to blame? Using her deductive reasoning and extensive online spy training, Sam is determined to find out.

In less than 150 pages, Death by Dinosaur manages to deliver what every good detective story needs- humour, suspense, characters you can root for (or against) and a few nail biting moments to get the heart racing. In tricky situations, Sam's ingenuity will have readers mentally applauding while Paige, a reluctant Watson to Sam's Sherlock, lightens the mystery with her quips and sarcasm. Together, they stumble around in a series of misadventures and bring a colourful cast of characters in help solve Operation Dinosaur. And when all is revealed, it's in a style that would do 007 proud.

In this promising first novel of the series, Ms. Guest blends facts with fiction, providing extra details without overwhelming her audience. She doesn't forget her information hungry readers though. There are pages of information on the museum and its programs after the book concludes. She also avoids the necessity of a glossary by describing unfamiliar terms and names right away. You won't be bogged down by Jurassic jargon. This was my first foray into Ms. Guest's work and am already looking forward to the next case her budding spy is thrown into. I have no doubt her fans will feel the same.
THIS BOOK IS AVAILABLE AT YOUR LOCAL BOOKSTORE OR FROM WWW.SKBOOKS.COM.
New!!
With purchase of set of novels or with novel study of one of Jacqueline's books, a FREE Skype or Facetime visit is included.
BUY FROM AUTHOR