Leading a double life is twice as hard!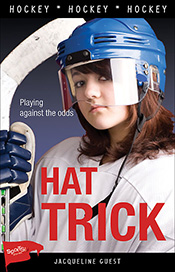 Twelve-year-old Leigh is one of the top players – and the only girl – on the Falcons hockey team.
Leigh knows the captain of the team doesn't like her, but she's willing to stick it out. Her real problem is that she can't tell her Mom. Leigh just knows her Mom wouldn't approve of her playing hockey. But because her parents are divorced, it's easy to keep a secret. Or so Leigh thinks!
Before long, things start to fall apart. Someone is leaving threatening messages on her answering machine, the captain is trying to get her thrown off the team and on top of it all, Leigh's mother wants her to go to a recital on the same night as the finals. What a mess!
Young hockey fans will enjoy this suspenseful, action-packed story of a young woman who learns about the difficulties of leading a double life – the hard way!
Hat Trick was Jacqueline's first book, published in 1997.
Awards:
Canadian Children's Book Center – Our Choice Award
Reviews:
"This is a really great book!"
Ben, Grade 5, Calgary
"… an exciting introduction to light fiction"
Owl Canadian Family
"Hockey fans will enjoy the fast-paced, action-packed story with lots of twists and turns. This book is also interesting in that a native Canadian is the strong central character."
Richard Chase, The Lethbridge Herald, 2001-10-20
"The characters are well-drawn, and I, for one, would like to meet them again. Guest has a future as a writer who can handle plot, dialogue, description and character, drawing equally well and then blending them into a whole."
Elizabeth Cran, Charlottetown Guardian, 1998.
"In terms of plot quality, Hat Trick is definitely the high scorer. A strong subplot is interwoven with the main story. Hat Trick is recommended and would be a useful addition to school and public libraries"
Dave Jenkinson, Canadian Book Review Annual, 1997
New!!
With purchase of set of novels or with novel study of one of Jacqueline's books, a FREE Skype or Facetime visit is included.
BUY FROM AUTHOR