A guy on Leigh's all-girl hockey team? No way!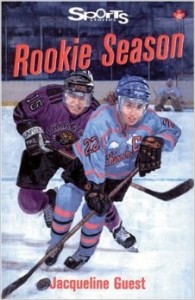 Leigh Aberdeen is determined to win the championship with a new, all girls team, the Chinooks. So when the coach adds a know-it-all boy to the mix, Leigh is furious.
To make matters worse, the team goalie – Leigh's best friend – starts mysteriously dropping out from practices, just as the Chinooks show they can win.
With humour, action and suspense, Jacqueline Guest weaves these threads together to their surprising conclusion.
Rookie Season was Jacqueline's fourth book, published in 2000.
Rookie Season has been nominated for a Golden Eagle Children's Choice Award!
This is the first year of the Golden Eagle Award, which will be given annually to an Alberta writer. The winner will be chosen by children in grades four through seven from Claresholm, Fort MacLeod, Granum, Nanton, and Stavely. Eleven books were nominated and the award ceremony will take place on May 14 and 15. Hopefully attended the top three selected authors will attend.
Awards:
Canadian Children's Book Center – Our Choice Award
Reviews:
"Rookie Season is one of the best of Lorimer's excellent Sport Stories series…Highly recommended."
Deborah Dowson, Canadian Book Review Annual, 2000
"This is a really great book!"
Ben, Grade 5, Calgary