Being in two places at once is always a challenge.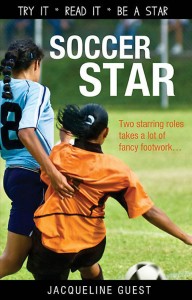 Samantha Keyes is thirteen now and capable of handling both soccer and a starring role in the Drama Club's performance of Romeo Dude and Julie Baby. The problem is, after a dismal history of over extending herself, the house rule is one only extra activity. She finds herself caught in a web of lying to her parents, her coach and worst of all, her soccer teammates in order to be both on the stage and a soccer star!
Soccer Star! is Jacqueline's eighth book, published in 2003.
Awards:
Canadian Children's Book Center – Our Choice Award
Reviews:
"Guest's writing is strong, her characters are interesting and their dilemma's feel real. This is a good read."
Gary Curtis and Lee Prokaska – Hamilton Spectator
"[Soccer Star] presents a motivating picture of dedication and offers readers an accurate depiction of teen angst and the emotions that motivate a teenager."
Carroll Chapman – Resource Links
New!!
With purchase of set of novels or with novel study of one of Jacqueline's books, a FREE Skype or Facetime visit is included.
BUY FROM AUTHOR