What happens when Ryan's violent virtual world collides with the real world?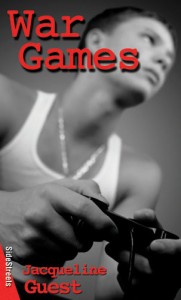 When Ryan Taber's father leaves for a tour of duty in Afghanistan, it doesn't take long before the video addicted teen finds himself in a war zone here at home. No one comes out alive!
War Games is Jacqueline's 15th book, and was released in December, 2008.
Praise:
"In her latest book, "War Games", Jacqueline Guest has provided us with tremendous insight into some of the unique challenges our military families may face when their CF member deploys to Afghanistan . I was moved by how powerfully and yet realistically the story played out, and I see this novel as an invaluable resource to our teens and the parents of teens, who may be impacted by Canada 's mission in Afghanistan."
Colleen Rowe, Executive Director, Calgary Military Family Resource Centre
New!!
With purchase of set of novels or with novel study of one of Jacqueline's books, a FREE Skype or Facetime visit is included.
BUY FROM AUTHOR