The good guys always win… right?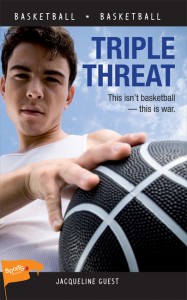 Matthew Eagletail's good friend, John Salton, has come to visit. Together, the boys form the Bobcats to compete in the Rocky Mountain basketball tournament. A summer of fun stretches out before them.
The fun stops when Matt's arch rival, John Beal, enters the tournament with his team, the Mean Machine. Suddenly, Matt finds himself fighting the battle of his life.
The Bobcats and the Machine fair play, foul play – whatever it takes to win. In this sequel to Free Throw, author Jacqueline Guest smokes down court with hard-hitting action and suspense.
Triple Threat was Jacqueline's third book, published in 1999.
Awards
The 2012 American Indian Youth Literature Award from the American Indian Library Association (with Free Throw)
Reviews:
"A hard-hitting, action-packed story of competition on and off the basketball court. For sports enthusiasts, particularly basketball players, this is a great novel. For those of us just interested in a good story, author Jacqueline Guest provides enough off-court interest in her unique Thoreau family characters to capture the reader's interest."
Gail Lennon, Resource Links, 2000
"This thoughtful and action-packed novel will appeal to both boys and girls who like basketball. The book could also be used in classrooms to raise awareness of some of the mobility issues that people in wheelchairs face. Recommended."
Lorraine Douglas, Canadian Book Review Annual, 2000
"What makes this book readable is the constant reminder that games and sports should be fun…this little book has a positive message, which young people need to be taught and retaught."
Ian Stewart, Canadian Review of Materials, 2001-02-02
New!!
With purchase of set of novels or with novel study of one of Jacqueline's books, a FREE Skype or Facetime visit is included.
BUY FROM AUTHOR