Who is the mysterious Davy?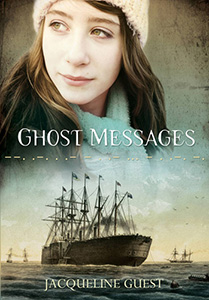 Foilhummerum Bay, Ireland, 1865
Thirteen year-old Ailish, a feisty Irish fortune-teller, is about to become part of history. She becomes trapped on the mighty Great Eastern just as the ship sets off on its voyage to lay the very first trans-Atlantic telegraph cable. Escape is impossible! Ailish must pretend to be a boy to keep from being pitched into the ocean by the superstitious sailors, while dodging a dangerous ruffian who has stolen her golden treasure. She frequently gets help from a pale young boy named Davy, who seems to know everything about the Great Eastern, but won't ever come up on deck. Will Ailish's wits, her determination, and her friendships help her to survive the trip, find her treasure and solve the mystery of her young companion?
Ghost Messages is Jacqueline's sixteenth book, published by Coteau Books For Kids in 2011.
ISBN 978-1-55050-458-3
See the Ghost Messages trailer on YouTube
Now available, with thanks to:
WordFest & First Calgary Financial bookrapport (www.bookrapport.com):
Novel Study Guide
The complete Novel Study Guide for Ghost Messages
Awards:
Ghost Messages is a Silver Birch Finalist!
Ghost Messages won a Gold Medal at the Prestigious Moonbeam Awards!
Reviews:
'Like a 19th-century Nancy Drew, Ailish is a compelling protagonist who consistently uses her wits
and shows an unflappable sense of loyalty and justice.'
Quill and Quire, May 2011
'Ghost Messages is an engaging and fast-paced book that provides enough adventure and suspense
to keep readers wanting to read on. Highly Recommended.'
Canadian Materials, June 24 2011
View the standard Morse Code Alphabet (in pdf format):
New!!
With purchase of set of novels or with novel study of one of Jacqueline's books, a FREE Skype or Facetime visit is included.
BUY FROM AUTHOR