Can hockey bring two warring brothers together?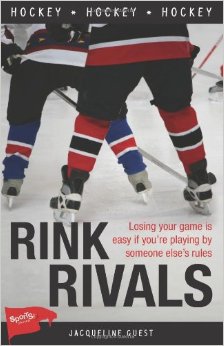 When the Selkirk family moves from northern Quebec to Calgary, life turns upside down for twin brothers Evan and Brynley. Evan has always been the family hockey hero, while Bryn prefers the piano to the puck.
In Calgary, Bryn finds himself on the ice, risking his musical future to impress a girl who prefers hockey to classical music. Meanwhile, Evan is making friends with a bad crowd and spinning a web of lies to cover his tracks. Only a twin brother can help him out of this mess.
Rink Rivals is Jacqueline's sixth book, published in 2001.
Awards:
Canadian Children's Book Center – Our Choice Award
Reviews:
"This well-written story has a very contemporary feel… Guest has a good understanding of teenage angst and the emotions that motivate a teenager… Highly recommended!" Canadian Book Review
New!!
With purchase of set of novels or with novel study of one of Jacqueline's books, a FREE Skype or Facetime visit is included.
BUY FROM AUTHOR