Rally cars and illegal drugs don't mix!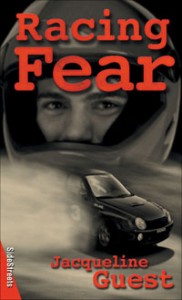 Trent and Adam were best friends and racing buddies until an accident, with Adam at the wheel, put Trent in the hospital. After a long separation, the teens try to pick up their friendship, but Adam's guilt and Trent's odd behaviour make it tough. Why is Trent hanging around with Marcus, a guy who he can't stand? And why isn't his Ritalin working anymore? When Adam discovers Trent is dealing with the dark side, it's a race to save his friend from himself.
Racing Fear is Jacqueline's ninth book, published in May 2004.
Reviews:
"This novel is a good combination of sporting action, suspense and romance. Guest does a marvelous job of telling a good story and provoking thought about current teen concerns and yet leaving the reader satisfied with a good read along with a positive message. Highly recommended."
Ann Ketchenson – CM: Canadian Review of Materials
"[Racing Fear] is fast-paced and has good character development and natural dialogue. The theme of friendship is incorporated into the story in a realistic way without being too obvious. Suitable for reluctant readers."
School Library Journal
"An action-packed story… Guest does a marvelous job of telling a good story and provoking thought about current teen concerns.  Highly Recommended."
Canadian Materials
Praise:
"An exciting look into the world of Rallysport and the inherent dangers it brings. Well written and intriguing."
Trish McGeer, Team Manager, Subaru Rally Team Canada
"Racing Fear is a great story about rallying that also tackles many social and moral issues faced by today's youth."
Jorge Dascollas, rally instructor and championship racer