Once a Warrior, always a Warrior!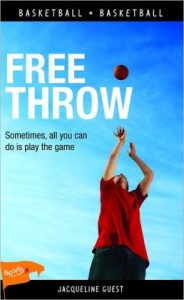 Matthew Eagletail was happy with his life until his mother remarried. Now he must get used to a new school, new father, five pesky new sisters and a dog named Precious. Worse still, he will have to give up playing for the Tsuu T'ina Warriors, the basketball team he loves. When his sister Jasmine asks if he will join the team at his new school, Matthew says it's out of the question. He will never play for the competition. But Jasmine knows better, and she sets out to prove it. Funny, and fun-filled, Free Throw is the story of how Matthew Eagletail returns to the court – with a little help from his friends.
Free Throw was Jacqueline's second book, published in 1999.
Awards:
The 2012 American Indian Youth Literature Award from the American Indian Library Association (with Triple Threat)
Canadian Children's Book Center – Our Choice Award
Reviews:
"The characters are well-drawn and I, for one, would like meet them again…" 
The Guardian
"This book is very well written and is truly enjoyable. I found that I learned a great deal about the game of basketball as a result of reading this book. The main character is believable and one can easily relate to the problems he was encountering."
Shannon Danylko, Resource Links, 2000
"Awesome!"
Audrey, Grade 6, Calgary
"This is a really great book!  I'm going to look for more books by Jacqueline Guest."
Ben, Grade 5, Calgary
"Interesting reading… the book is interesting in that a native Canadian is the central character… highly recommended"
Audrey Cormier, Canadian Materials, 2000
"This well-written story has a very contemporary feel. Guest has a good understanding of teenage angst and the emotions that motivate a teenager in Matt's circumstances… highly recommended."
Lisa Arsenault, Canadian Book Review Annual, 2000